Acceptance of Westover Award April 24, 2010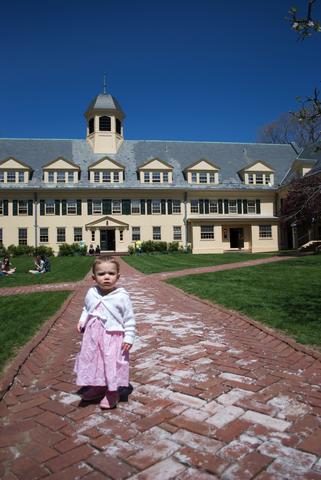 Pictured here: Granddaughter at Westover April 2010
Excerpts from speech in April 2010 at the Westover School, an all girls school in Middlebury, CT where Charlotte Beyer graduated in 1965.
It began in chapel in 1963. We recited first Corinthians "When I became a man, I put away childish things." My 'new girl' brain was thinking 'Whhaat?! When I become a man!?!?'
But I was a scaredy cat at Westover. I was not a head of school and spent most of my time trying to be liked, and if possible, play a woman, not a man(!) in one of the Dramatic Club productions. Searching so hard, I read (and still do!) every self-help book I could get my hands on.  I went to personal growth retreats, Esalen, NTL, 12 Step meetings, The Forum.
Finally, twenty-five years after graduation, I gathered the courage to leave the safety of the regular paycheck from an investment bank. I wanted to change the world of Wall Street. The principles and skills of loving I learned at Westover would be at the basis for my company's mission in 1991. I founded this company on a feminine model, collaborative learning, and created an online community that was nurturing – just like Westover's!
Still, like many of you, I felt angry about how out of balance it was on Wall Street. When I was a Vice President of a major bank, there was no ladies room in the executive dining room, so a waitress would guard the door of the men's room! When I had my first child in 1974, there was no maternity leave, paid or unpaid. A court ruling in NY would soon change that. I had to get past my anger into action – men may have messed it up, women could reinvent Wall Street and  the world. My business, is viewed as an agent of change, giving me a platform to publish often and widely in financial media. Candor and transparency  are the core of that message.
The more I found my own voice, not the angry one, the honest one, the more I learned about myself. I came to understand that fear, that flip in my stomach, was, and still is, a signal to take action, show up, speak up, stand up. My most vulnerable moments in business – and life – were teaching me the greatest lessons. When I met my soul mate, the man I've been married to for 13 years, I was terrified. It would have been easier to run away, stay inside my hard shell. I now believe that fear – not apathy, not hate – fear is the obstacle to love. Love, just as Corinthians 13 said, is 'the greatest of these.' 
Love also brings the blessing of children, but – having children should never be a career choice! Only 7% of the Fortune 500 CEO's are women and only a fraction of that tiny minority have children. Moms who are employed outside the home are stressed and dismayed by the lack of community support. Women who stay home, though, end up shouldering the PTA and civic activities. That is not right either! These issues are divisive whether we work at home or work outside the home.  They slow us down on our journey to change the world. At Westover I discovered a community is always  interdependent, every event impacts everything else! Suburban and urban communities can feel isolating and very lonely today. A community like Westover has so much to teach the rest of the world. Just look at the daycare facilities right here in Virginia House!
Forty-five years ago the class of 65 selected our motto, "Spirit Speaks from a Loving Soul."  If we stay true to the principles and skills of loving, we can rebalance the feminine and the masculine in business and government. We need to  show up, speak up and stand up – for women. We can reinvent the world for our granddaughters – and grandsons, too!