Grant Made To Girls Who Just Might Transform Wall Street!
The Principle Quest Foundation funded a grant proposal from the Westover School to underwrite 34 students who traveled from Connecticut to Wall Street in March.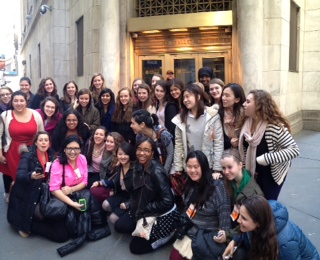 The high school girls had a lively lunchtime discussion on the purpose of finance (good and bad outcomes!)  and discussed how to prevent a bank run (Cyprus was in the news that morning). They then crossed the street for a tour of the floor of the New York Stock Exchange. The trip to the NYSE floor was made possible by the Museum of American Finance whose docent then conducted a class on Financial Markets, including the history of a few market crashes! This day on Wall Street complemented the Invest in Girls curriculum the students are taking, which begins in sophomore year and includes a mentor in the 'real world' by senior year.
A sophomore at Westover wrote to thank us for her day in New York's financial district:
"Thank you so much for hosting Westover's IIG trip to New York last week! Not only was it incredible to witness the New York Stock Exchange inaction and learn about the Museum of American FInance, it was also so great to meet you and hear your story. I don't think I will ever be able to forget the feeling of pure exultation when I walked into the floor of the NYSE; there was almost a palpable feeling of energy on the floor, and being able to talk to NYSE floor workers in person was incredible. It was a sureal experience and made me realize that finance and business is really what I want to spend the rest of my life doing. It was so great to have lunch with you at the DownTown Association and hearing about how you forged your path in such a male dominated industry. I truly admire what you do; at Westover I am one of the Women's rights club heads, Women's equality is very important to me, and I hope that in the future I will be able to change the men and women dynamic in the business world just as you did.
Serendipitously, the day after our trip I heard a story about the Cyprus bank crisis on the news! After listening to that story, It was really interesting to hear about how Cyprus came to be in the state that it is in today. After researching more about Cyprus, I talked to my dad and decided to get a subscription to the Wall Street Journal! Because of this field trip I realize that it is important to be financially literate.
Thank you again for giving up your day and spending it with us; I will never forget the amazing things that I learned during this trip."